Talk About Meditation...Without Being Annoying
Dan Harris makes a really good point in this article from
Mindfulness
, one of my favorite journals. I've been practicing mindfulness for almost 30 years, and I've found the discipline extremely helpful. I'm a bit shy, however, in urging others to investigate mindfulness practice. Like many other fields of study (nutrition, psychology, education, psychiatry, religion, etc.) there are about as many ideas out there as there are people. Go to dinner with four or five fitness instructors or yoga practitioners from different "schools" and your hair may catch on fire. So it is with discussions of meditation and mindfulness.
Mindfulness is not simply sitting still in a chair with your eyes closed, nor is it necessarily connected with religion, although all sacred traditions are associated with the value of contemplative life, periods of silence, and centering prayer. Mindfulness is an experience, not a theory or an idea or concept. Mindfulness happens within ourselves, within the mind or—as some would say—within the spirit. Whatever we choose to call the experience, or however we define it, science clearly shows the benefit of mindfulness practices.
In his book Mindful Work, David Gelles (New York Times reporter) makes a good case for mindfulness: "One of the most surprising and promising trends in business today is the rise of mindfulness in the workplace. At first, the notion of yoga and meditation in the office seems like the province of Silicon Valley startups where employees bring their dogs to work and play football in the lobby. But in recent years, mindfulness has gone mainstream. Many of America's largest companies, such as General Mills, Target, Google, and Aetna, have built extensive programs to foster mindful practices among their workers. This is because—as employees and employers are discovering, and psychologists and cognitive scientists have confirmed—mindfulness has tangible benefits. For workers, meditation lowers stress, increases mental focus, and alleviates depression. For companies, a more mindful workforce is more productive."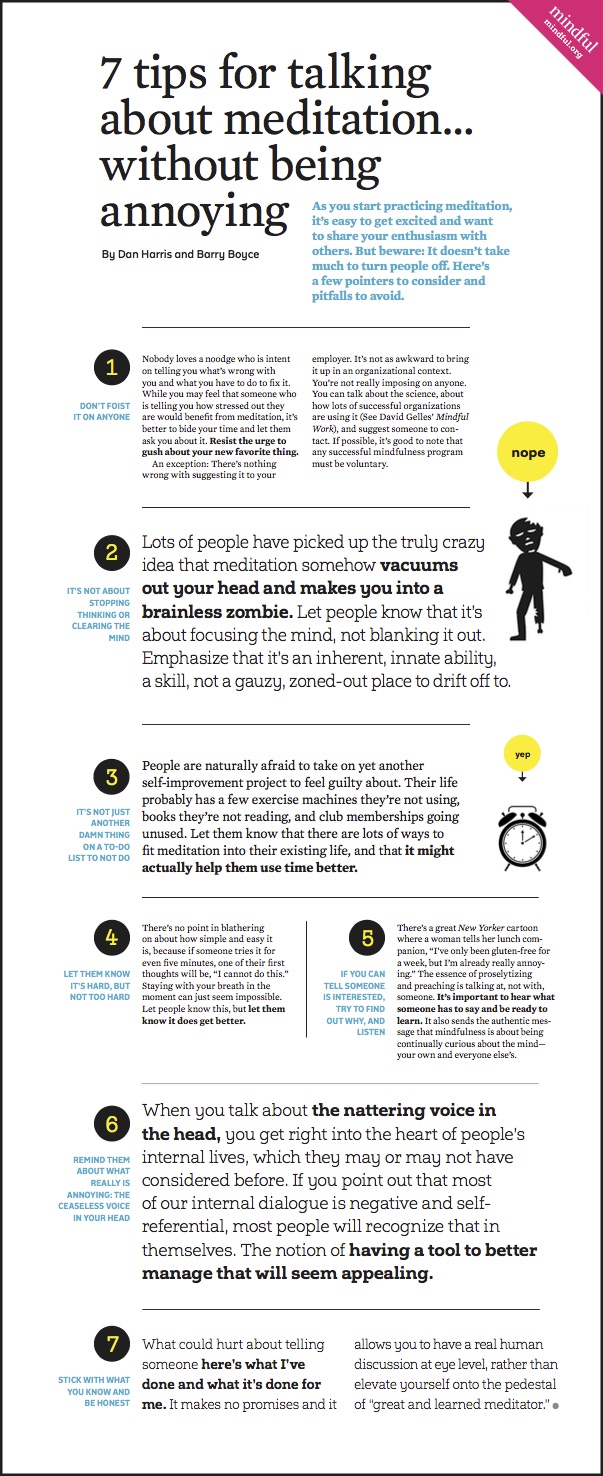 1. Don't foist it on anyone
Nobody loves a noodge who is intent on telling you what's wrong with you and what you have to do to fix it. While you may feel that someone who is telling you how stressed out they are would benefit from meditation, it's better to bide your time and let them ask you about it. Resist the urge to gush about your new favorite thing.
An exception: There's nothing wrong with suggesting it to your employer. It's not as awkward to bring it up in an organizational context. You're not really imposing on anyone. You can talk about the science, about how lots of successful organizations are using it (See David Gelles' Mindful Work), and suggest someone to contact. If possible, it's good to note that any successful mindfulness program must be voluntary.
2. It's not about stopping thinking or clearing the mind
Lots of people have picked up the truly crazy idea that meditation somehow vacuums out your head and makes you into a brainless zombie. Let people know that it's about focusing the mind, not blanking it out. Emphasize that it's an inherent, innate ability, a skill, not a gauzy, zoned-out place to drift off to.
3. It's not just another damn thing on a to-do list to not do
People are naturally afraid to take on yet another self-improvement project to feel guilty about. Their life probably has a few exercise machines they're not using, books they're not reading, and club memberships going unused. Let them know that there are lots of ways to fit meditation into their existing life, and that it might actually help them use time better.
4. Let them know it's hard, but not too hard
There's no point in blathering on about how simple and easy it is, because if someone tries it for even five minutes, one of their first thoughts will be, "I cannot do this." Staying with your breath in the moment can just seem impossible. Let people know this, but let them know it does get better.
5. If you can tell someone is interested, find out why, and listen
There's a great New Yorker cartoon where a woman tells her lunch companion, "I've only been gluten-free for a week, but I'm already really annoying." The essence of proselytizing and preaching is talking at, not with, someone. It's important to hear what someone has to say and be ready to learn. It also sends the authentic message that mindfulness is about being continually curious about the mind—your own and everyone else's.
6. Remind them about what really is annoying: the ceaseless voice in your head
When you talk about the nattering voice in the head, you get right into the heart of people's internal lives, which they may or may not have considered before. If you point out that most of our internal dialogue is negative and self-referential, most people will recognize that in themselves. The notion of having a tool to better manage that will seem appealing.
7. Stick with what you know and be honest
What could hurt about telling someone here's what I've done and what it's done for me. It makes no promises and it allows you to have a real human discussion at eye level, rather than elevate yourself onto the pedestal of "great and learned meditator."

Spiritual Reflection, Contemplation
A contemplation experiment: research says that if we practice a new habit for 21 days our brains adapt and, after a fashion, rewire around the new habit. With a friend I have agreed to read a morning meditation from "the little black book,"
24 Hours a Day.
Each day we agree to share our reflections with each other. Here is Day One.
9/22 Woke up feeling pretty good for an old man. 24 Hour book was on coffee table when I sat down with my cup of java. What I got from the reading was that "each day is an opportunity to serve God." This is curiously one of those insights that often makes me smile. I call these my "baloney sandwich" moments. In 1986 I was alone in my kitchen, having just turned 40, and I was spreading mayonnaise on a slice of bread, grabbing a quick bite before charging off to whatever I had to face that day.
For reasons I have never understood, the thought occurred to me that all God asks is that we love God and serve God by doing what He would have us do. Within two seconds the experience had passed, and I was standing there with bread and baloney. How strange to think now, thirty years later, that I have never forgotten a baloney sandwich. Perhaps God was telling me that on the one hand I have "bread for the journey," and on the other hand there is "the baloney of my life." This never fails to bring a smile, because I usually expect that God should bring me a burning bush, a blinding flash of light, or at the very least the power to part the Red Sea or raise Lazarus from the dead. "No, John," God seems to say, "you're confusing the bread with the baloney. Just eat your sandwich, and I will tend the universe around you."
When Brother Lawrence wrote his letters about the Practice of the Presence of God, he said that he realized that he could feel close to God in the privacy and relative darkness of his monastic cell, but that he experienced God most clearly when he was amidst the noise, heat, and commotion in the monastery kitchen, where he had once despised his job as a distraction and a burden. Today I will think on these things as I toil and sweat, perhaps enjoying the discernment that helps me distinguish the bread from the baloney. I am smiling as I write this.
Addendum: Brother Lawrence was a man of humble beginnings who discovered a secret about living spiritual life here on earth. That "secret" is the art of "practicing the presence of God in one single act that does not end." He often stated that it is God who paints Himself in the depths of our soul. We must merely open our hearts to receive Him and His loving presence. For nearly 300 years this unparalleled classic has given both blessing and instruction to those who can be content with nothing less than knowing God in all His majesty and feeling His loving presence throughout each simple day. You can browse a copy of the book on Amazon here.

Twenty-Four Hours A Day is available through major booksellers, and also from Hazelden. Written by Richmond Walker, it's a book that offers daily thoughts, meditations and prayers to help recovering alcoholics live a clean and sober life. It is often referred to as "the little black book." The three most published A.A. authors are Bill W., Richmond Walker, and Ralph Pfau, in that order. Ralph, who lived in Indianapolis, became in 1943 the first Roman Catholic priest to get sober in A.A., and under the pen name "Father John Doe," wrote the fourteen Golden Books© along with three other books, all of them still in print and read by A.A. people today. Richmond Walker got sober in Boston in May 1942, and later moved down to Daytona Beach in Florida, where in 1948 he published Twenty-Four Hours a Day©, which became the great meditational book of early A.A. from that point on.
Mindfulness Based Relapse Prevention
Dr. Sarah Bowen has published a study on mindfulness and relapse prevention in
JAMA Psychiatry
, a specialty journal of the American Medical Association. According to Bowen, substance abuse is another example of that too-human automatic drive to move toward pleasure and away from pain—one that affects an estimated 24 million Americans, according to the National Survey on Drug Use and Health.
Traditional treatment for substance abuse often focuses on avoiding or controlling triggers that result in negative emotion or craving. While research has shown that this approach can help, substance abuse relapse remains a problem: about half of those who seek treatment are using again within a year.
Bowen has spent much of her career studying another approach: mindfulness, which involves cultivating moment-to-moment, nonjudgmental awareness of thoughts, feelings, and surroundings. She and her colleagues have developed a program called Mindfulness-Based Relapse Prevention (MBRP), which combines practices like sitting meditation with standard relapse prevention skills, such as identifying events that trigger relapse. Rather than fighting or avoiding the difficult states of mind that arise when withdrawing from a substance, this combination tries to help participants to name and tolerate craving and negative emotion.
But how do mindfulness-based approaches compare to traditional substance abuse treatments? And do mindfulness-based treatments work for everyone? Researchers like Bowen are beginning to answer these questions.
Here is the key to the success of the program: MBRP helps people to relate differently to their thoughts, and use tools to disengage from automatic, addictive behaviors.
The JAMA Psychiatry article describes how effective the Mindfulness-Based Relapse Prevention program is in comparison to a standard relapse-prevention program as well as a conventional 12-step program. Six months following the intervention, the mindfulness-based program and the standard relapse-prevention program were both more successful at reducing relapse than the 12-step program. One year later, the mindfulness-based program proved better than the other two in reducing drinking and drug use.
Bowen says that when people cultivate mindfulness, they're developing a tool to become aware of that inclination to want only pleasurable things and escape uncomfortable things. Mindfulness also helps people learn to relate to discomfort differently. When an uncomfortable feeling like a craving or anxiety arises, people like Sophia are able to recognize their discomfort, and observe it with presence and compassion, instead of automatically reaching for a drug to make it go away. Bowen says that awareness of our experience and the ability to relate to our experience with compassion gives us more freedom to choose how we respond to discomfort, rather than defaulting to automatic behaviors.
More research is needed to determine why MBRP might be more successful than other programs in reducing substance abuse relapse, but Bowen speculates that MBRP holds an advantage because mindfulness is a tool that can be applied to all aspects of one's life.
Standard relapse-prevention programs teach tools specific to struggles with substance abuse—for instance, how to deal with cravings or how to say no when someone offers you drugs. A year after completing the program, a person may have a very different set of challenges that the relapse-prevention program did not equip them to deal with.
But because mindfulness is a tool that can be used in every part of a person's life, practicing moment-to-moment awareness could continue to be an effective coping tool.
James Davis and his colleagues at Duke University are investigating mindfulness training as a way to help people quit smoking. Davis speculates that mindfulness is likely an effective tool in helping people with addiction because it's a single, simple skill that a person can practice multiple times throughout their day, every day, regardless of the life challenges that arise. With so much opportunity for practice—rather than, say, only practicing when someone offers them a cigarette—people can learn that skill deeply.
Their intervention results showed a significant difference in smoking cessation for people who completed the intervention, as compared to people who were given nicotine patches and counseling from the Tobacco Quit Line.
Both Bowen and Davis emphasize that mindfulness is not a panacea; it doesn't always work for everyone.
Dr. Zev Schuman-Olivier and his colleagues at the Massachusetts General Hospital Center for Addiction Medicine suggest that the type of therapy a person responds to may have something to do with their disposition. People who had the tendency to treat thoughts and behaviors with non-judgment and acceptance before the intervention began were more likely to be successful in reducing smoking following the mindfulness training. They write that if a person already has the skill to treat the self with non-judgment and acceptance, learning mindfulness practices likely comes easier to them than someone who has not previously practiced this skill.
Ultimately, the type of therapy that works best for a given person will likely capitalize on their pre-disposed strengths.Of course, as Bowen and Davis both note, the skills of mindfulness can be taught to everyone. But Schuman-Olivier's finding suggests that people who are not oriented toward mindfulness may need a more vigorous or lengthy intervention, in order to more thoroughly learn mindfulness skills. It may be the case that people with less disposition toward mindfulness would fare better with a different therapy.
Another predictor of success in mindfulness-based treatment could be a person's motivation to engage in the therapy. In Davis' study, the people that started the intervention with the highest level of nicotine addiction were the most successful in reducing smoking by the end of the treatment. Davis said that this seemingly counterintuitive result likely reflects their motivation to quit; the people that were the most addicted had, at that point, tried everything, and were willing to try their hardest to make this therapy work. Meanwhile, people that were less addicted saw their addiction as less of a problem. They reasoned, "If this doesn't work, I'll be ok—something else will work, eventually." As a result, they were likely less motivated to quit, and less engaged in the therapy.