Painkillers: New Guidlines
Federal health officials have called for doctors to stop prescribing chronic pain patients so many of the drugs. The alert has been highlighted by
Buzzfeed.com
. Statistics suggest that 1 out of every 150 patients prescribed long-term opioid painkillers die of a condition related to their prescription within three years of its start.
Opioid painkillers such as OxyContin and Vicodin are now prescribed to as much as 4% of the U.S. population — 250 million prescriptions — with their use quadrupling since 1999. Some 1.9 million Americans are now addicted to, or dependent on, the painkillers. And from 1999 to 2014, about 165,000 people died of overdoses. Almost all of the opiate-related drugs on the market for pain are as addictive as heroin.
According to the
National Institute on Drug Abuse
(NIDA), the abuse of and addiction to opioids such as heroin, morphine, and prescription pain relievers is a serious global problem that affects the health, social, and economic welfare of all societies. It is estimated that between 26.4 million and 36 million people abuse opioids worldwide, with an estimated 2.1 million people in the United States suffering from substance use disorders related to prescription opioid pain relievers in 2012 and an estimated 467,000 addicted to heroin. The consequences of this abuse have been devastating and are on the rise. For example, the number of unintentional overdose deaths from prescription pain relievers has soared in the United States, more than quadrupling since 1999. There is also growing evidence to suggest a relationship between increased non-medical use of opioid analgesics and heroin abuse in the United States.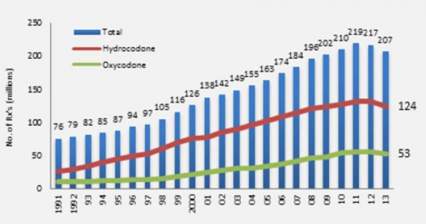 Increase in Opioid Prescriptions 1991-2013

Opioid medications can produce a sense of well-being and pleasure because these drugs affect brain regions involved in reward. People who abuse opioids may seek to intensify their experience by taking the drug in ways other than those prescribed. For example, extended-release oxycodone is designed to release slowly and steadily into the bloodstream after being taken orally in a pill; this minimizes the euphoric effects. People who abuse pills may crush them to snort or inject which not only increases the euphoria but also increases the risk for serious medical complications, such as respiratory arrest, coma, and addiction. When people tamper with long-acting or extended-release medicines, which typically contain higher doses because they are intended for release over long periods, the results can be particularly dangerous, as all of the medicine can be released at one time. Tampering with extended release and using by nasal, smoked, or intravenous routes produces risk both from the higher dose and from the quicker onset.

The Centers for Disease Control released a dozen opioid prescription guidelines in the Journal of the American Medical Association (JAMA). They will not have the power of law but will guide insurance company recommendations to doctors and Veterans Administration prescriptions for retired military patients, with the aim of curbing dangerous prescribing practices. "Primary care clinicians find managing chronic pain challenging," according to JAMA, and "evidence of long-term efficacy of opioids for chronic pain is limited. Opioid use is associated with serious risks, including opioid use disorder and overdose."

The guidelines are based on three principles. First, opioids should be a last option for these patients, with aspirin-related drugs and exercise preferred. Second, when given, doses should start out low and only increase slowly. Third, patients should be monitored and a plan for getting them off the drugs should start with their prescription. The guidelines also call for getting naloxone, a drug used to counteract overdoses, into the hands of more doctors, nurses, police, and emergency personnel.
Painkiller Overdoses On the Rise
In 2012, physicians wrote 259 million prescriptions for pain killers, enough to give a bottle of pills to every adult in the USA, Frieden said. More than 2 million Americans abuse prescription opiates, according to the National Institute on Drug Abuse. About 669,000 use heroin, to which many opiate users turn when they can no longer afford pain killers.
This news isn't shocking to those of us who encounter addiction daily, but it's in the headline today at
USA Today
. Other items of note from today's paper:
With nearly 44,000 deaths a year, more Americans today die from drug overdoses than from car accidents or any other type of injury. Many of these deaths could be prevented if patients had better access to substance abuse therapy, experts say. Yet people battling addiction say that treatment often is unavailable or unaffordable.
Only 11% of the 22.7 million Americans who needed drug or alcohol treatment in 2013 actually got it, according to the Substance Abuse and Mental Health Services Administration. While some of those who went without care did so by choice, at least 316,000 tried and failed to get treatment.
"We know addiction treatment saves lives, reduces drug use, reduces criminal activity and improves employment," says Paul Samuels, president and director of the Legal Action Center, which advocates on behalf of people with HIV or addiction. "The data is there, the evidence is in, but our public policy has not caught up with the science."
Meanwhile, the crisis is getting worse, says Thomas Frieden, director of the Centers for Disease Control and Prevention. The death rate from drug overdoses more than doubled from 1999 to 2013, according to the CDC. The bulk of these deaths involve opiates, a class of pain killers that includes morphine and Oxycontin.
Injection drug use has fueled an outbreak of HIV in rural Indiana, a nationwide surge in hepatitis C infections, and an increase in the number of babies born addicted to drugs. States have responded to the surge in overdose deaths by expanding access to naloxone, a fast-acting rescue drug that can reverse the effects of an opiate overdose. Indiana lawmakers also voted to allow needle exchange programs in communities facing a public health crisis related to injection drug use. While those approaches are welcome, they don't treat the underlying addiction.
The wait for a spot in a detoxification program ranges from days to weeks, and it can be very expensive. As I say elsewhere here on my site, it's also true that not all treatment is really good treatment. Consumers are disadvantaged twice. Not only is treatment hard to find in the first place, but it's hard to know what constitutes a good treatment program. I have some comments about this on my
FAQ page
and on my
Philosophy page
.
Painkillers, Narcotic Abuse, and Addiction
The Texas Medical Association sent an alert today about a new study: About 25% Of Chronic Pain Patients May Abuse Prescriptions. Forbes (4/2) Contributor C.J. Arlotta writes that a new report, published in the journal PAIN, found that "20-30% of opioids prescribed for chronic pain are being misused," and further concluded "that the rate of addiction is approximately 10%." The opioid epidemic in the US, he writes, "puts chronic pain front and center," and physicians and health experts "are routinely looking for ways to" lower the "risk of patients becoming dependent on" prescription medicines. An independent panel convened by the NIH came to the conclusion that "individualized, patient-centric care," despite its challenges, "is one way to control opioid tolerance development in chronic pain patients." Additionally, state governments have continued investing in prescription monitoring programs (PMP), even though "only 53% of primary care physicians" utilize PMPs.
Over the past twenty years, drugs like hydrocodone, oxycontin, and similar narcotics have become an epidemic problem.
Opioids -- also called opiates or narcotics -- are pain relievers made from opium, which comes from the poppy plant. Morphine and codeine are the two natural products of opium. Synthetic modifications or imitations of morphine produce the other opioids:
Heroin (street drug)
Dilaudid (hydromorphone)
Percocet, Percodan, OxyContin (oxycodone)
Vicodin, Lorcet, Lortab (hydrocodone)
Demerol (pethidine)
Methadone
Duragesic (fentanyl)
When people use narcotics only to control pain, they are unlikely to become addicted to the drugs. However, opioids provide an intoxicating high when injected or taken orally in high doses. Opioids are also powerful anxiety relievers. For these reasons, narcotic abuse is one of the most common forms of drug abuse in the U.S.
Terms like opioid abuse, drug abuse, drug dependence, and drug addiction are often used interchangeably, but experts define them as follows:
Drug abuse, including opioid abuse, is the deliberate use of a medicine beyond a doctor's prescription. In the case of opiates, the intention is generally to get high or to relieve anxiety.
Dependence occurs when the body develops tolerance to the drug, meaning higher doses are needed for the same effect. In addition, stopping the drug produces drug withdrawal symptoms.
Drug addiction occurs when the person has drug dependence, but also displays psychological effects. These include compulsive behavior to get the drug; craving for the drug; and continued use despite negative consequences, like legal problems or losing a job.
Symptoms of Narcotic Abuse
Signs and symptoms of opioid abuse include:
Analgesia (feeling no pain)
Sedation
Euphoria (feeling high)
Respiratory depression (shallow or slow breathing)
Small pupils
Nausea, vomiting
Itching or flushed skin
Constipation
Slurred speech
Confusion or poor judgment
Symptoms of Opioid Drug Withdrawal

If a person uses opioids for a long time, they develop physical dependence and tolerance. Usually, opioid abusers will then take more of the drug, to continue to get high. If a person stops using opioids after they become physically dependent on the drug, they will experience drug withdrawal symptoms which can include:
Anxiety
Irritability
Craving for the drug
Rapid breathing
Yawning
Runny nose
Salivation
Gooseflesh
Nasal stuffiness
Muscle aches
Vomiting
Abdominal cramping
Diarrhea
Sweating
Confusion
Enlarged pupils
Tremors
Loss of appetite
I tell patients that withdrawal from drugs like painkillers and heroin is like the worst case of the flu you've ever experienced. The symptoms of opioid drug withdrawal can be agonizing and intolerable, contributing to continued drug abuse. In general, how severe opioid drug withdrawal symptoms are, and how long they last, depends on how long the person has been abusing opioids and how much they have been taking.
Medicines like methadone, buprenorphine (sometimes combined with naloxone), and naltrexone can be taken in various forms and are used to prevent withdrawal symptoms after a person stops using, a process called detoxification ("detox"). After drug withdrawal is complete, the person is no longer physically dependent on the drug. But psychological dependence can continue. Some people with drug addiction may relapse in response to stress or other powerful triggers.
Dependence vs. Addiction
Controlling pain is the goal when opioids are used medically. Patients or health care professionals should not let fear of addiction prevent them from using opioids for effective pain relief. Knowing the difference between dependence and addiction is important.
People who take opioids for pain relief for extended periods of time may need higher doses to ease their pain. They may develop tolerance to the drug and experience withdrawal symptoms if the medication is abruptly stopped. They become physically dependent on the drug.
Addiction occurs when narcotic abuse becomes compulsive and self-destructive, especially concerning an opioid user's need to use the drug for reasons other than pain relief.
To prevent withdrawal symptoms in people who have become physically dependent on opioids for pain relief, the dose may be slowly lowered over a few weeks. People who are weaned off opioids and are pain free usually don't start taking the drug again or become abusers of narcotics. Opioids used for short-term medical conditions rarely require weaning. In those cases, stopping the medication after a brief period usually doesn't cause withdrawal symptoms.
Other Abused Drugs
Strictly speaking, most drugs referred to informally as narcotics really aren't. However, two drug classes have some similar effects to opioids, when abused:
Benzodiazepines include Valium, Ativan, and Xanax. Benzodiazepine abuse results in sedation and calm, but tolerance develops rapidly. Withdrawal can result in seizures, unlike opioid withdrawal.
Barbiturates include Seconal, Amytal, Nembutal, and Luminal. Barbiturates are also sedating and calming. Withdrawal after continued barbiturate abuse, like benzodiazepine abuse, is medically serious.
In general, benzodiazepines and barbiturates have less pain-relieving effects than opioids. All three drug classes are sedating and anxiety-relieving. Benzodiazepine abuse, barbiturate abuse, and narcotic abuse all produce tolerance and physical dependence over time, and withdrawal symptoms after sudden discontinuation.
This post includes material from WebMD Medical Reference.
SOURCES:
Van den Brink, W. Canadian Journal of Psychiatry, 2006.
WebMD Medical Reference: "Narcotic Abuse."
Bateson, A.N. Current Pharmaceutical Design, January 2002.
eMedicine.com: "Toxicity, Barbiturate."
Reviewed by Arefa Cassoobhoy, MD, MPH on August 01, 2013